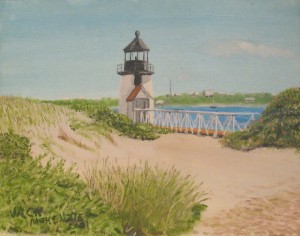 My glorious 10-day vacation on Cape Cod is coming to a close, and so out of habit or obligation, I've spent most of the day thinking about my life direction.
Life planning used to be just about me. Then it was about me and my husband. Now it's about  me, my husband, our two boys, and possibly another child, who knows.
Perhaps to help me wrap my head around where my life is heading before I even make any plans, I have this compulsive habit of charting out my children's ages/stages by year.
For example,
2011 Judah turns 2, Isaiah 3.5, me 35
2012 Judah turns 3, Isaiah 4.5, me 36
2013 Judah turns 4, Isaiah 5.5. Isaiah starts kindergarten. Me 37 (last year to have another baby?)
2014 Judah turns 5 (starts kindergarten?), Isaiah 6.5 in 1st grade, Me 38
2026 Isaiah graduates from high school (ahhh that's a little better–nice and far away)
And so on.
Seeing my life through this lens, a few things surface.
My god, how quickly it really is going to go by. I mean, kindergarten? First grade??
I probably have two years or less to decide if we'll have a third child. Not necessarily based on ability but personal preference.
How will my work schedule change when my children are in school? If I have a third child? And how does that affect the career choices I need to make now? Work more? Work less?
What kind of milestones do Ian and I want to hit before the kids start school?
Do I want to get a Ph.D.? If so, when? And in what?
The boys will wake up from their naps soon. We'll go down to the water and collect hermit crabs and snails. I'll have one of my last Sankaty Light Lagers of the summer.
And all of this will have to wait until another day.
Image from jackmck54