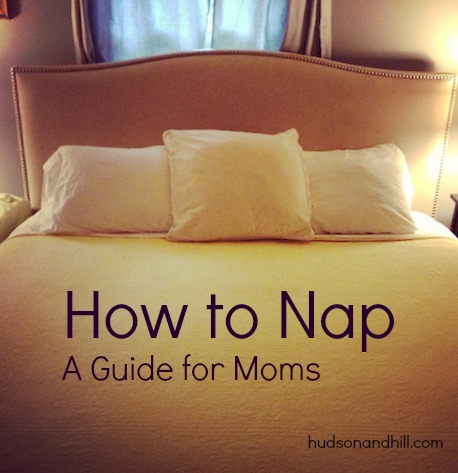 How did I survive this past year with baby twins, a preschooler and a kindergartener?
Naps.
(And the people who watched my children while I took said naps. Thank you Mayra and Mom!!)
"But I can't nap," you say.
I'm here to tell you that you can learn how to nap, even if naps have never worked for you.
How to be a power napper
1) Get the kids in a safe place.
Ideally this means into the hands of a babysitter, teenage neighbor, playdate, or if all else fails, an iPad.
When I was pregnant with my twins and still had two preschoolers at home, we had "quiet time" every day after lunch. My boys were so thrilled to be in their room alone with Netflix on the iPad, they never once came out to wake me up or get into trouble. I also have a very responsible older son I could trust to tell me if anything went awry.
But if you are concerned about snoozing with kids in the house, bring the youngest one into your room to watch a movie (while the oldest gets the iPad by himself in his room). You might even get your little one to wear headphones next to you while you sleep in peace.
2) Set the stage.
So ideally you are all alone in your room now. Your beloved room! Create a perfect napping environment by:
Making it cold and dark
Silencing all ringers.
Firing up your white noise machine
Popping in some earplugs (if your kids are with a babysitter)
Setting your alarm if you must
Blocking out all remaining light with a comfy eye mask.
My love of the eye mask emerged when I realized it's a signal to my brain to shut off. Something about the weight over my eyes helps tell my mind it's time to be quiet. I'm completely addicted to it now. This kind is my fave.
3) Let it go.
This is the part where you can start to stress that you're not going to be able to sleep. Or you'll start thinking about all the things you need to do. Or feeling guilty that you are spending money on a babysitter to sleep.
Everything can wait. And you have never spent your money more wisely. You are buying your health, and you are giving your children a much happier mother. This nap is going to help you make it through bedtime with a smile on your face. 
This is where you want to practice the breathing exercises you learned in yoga. If you need extra help shutting off your brain, try a relaxation app. (The one I've used doesn't seem to be available anymore. I'll update this if I find another one to recommend.)
4) Decide how long you want to sleep.
Sometimes I tell myself "I can sleep for one full hour" and I'll magically wake up exactly an hour later.
Lately I can even nap for 20-30 minutes and get enough energy to get through the rest of the day reasonably well. If you are the type of person who feels groggy and hungover after you nap, first down a glass of water before you fall asleep, and then aim for a shorter nap.
Check out this infographic: How Long to Nap for the Biggest Brain Benefits.
5) Do not do anything else but breathing deeply and not thinking.
And hopefully the next thing you know, you'll be waking up ready to move mountains.
But as I tell my non-napping friends, even if you don't fall asleep after 20 minutes of lying in the dark not talking to anyone and breathing deeply, you're going to feel better.