Somehow we have never had professional shots taken of our kids, despite the fact that my husband and I run a boutique digital agency and work with amazing photographers all the time. Figuring the guys we use for corporate projects probably had little interest in coming over to the house on Saturday to hang with us and 2 very young kids, I went on a search to find someone local.
My requirements: A photographer whose business name did not involve the words "Bubbles," "Sweeties" or "Polka-Dots." Once I found someone amazing and convinced her to do a kid shoot, I started digging up some examples of the types of shots I hoped to get.
Here's what we came up with
My vision emerged a relaxed, family shoot to take place in two locations—the master bedroom and outside our front door. For the bedroom shots, I wanted the kids in white with their pudgy little legs sticking out, so I put our infant in a white onesie and our toddler in a white t-shirt.
When we moved outside, I dressed them in cream sweaters and dark pants. I wore a light cream sweater and jeans. My husband doesn't let me pick out his clothes, so I don't remember what he wore. I wanted to avoid the "family on a beach" setting, so I made sure we didn't all match too well. And we didn't go to a beach.
The brilliance of this plan was that it looks like we got two separate photoshoots—which means we'll get more mileage out of the photos.
Here are the shots I found for inspiration, which all happen to be from the same photographer. And later, I'll share what we ended up with.
How great is this? It looks like they just came in from the swimming pool and started jumping on their parent's bed. So unstaged. So full of life.
A beautiful portrait of mom and baby with the background adding texture but not competing with the faces. Love how the mom's hair looks like it's part of nature.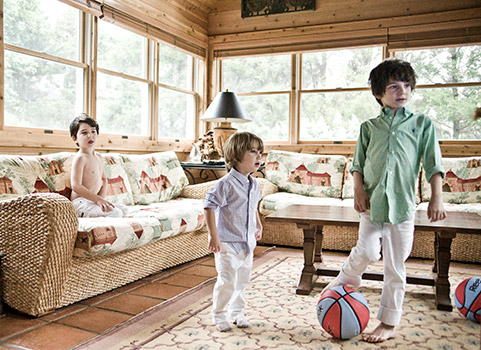 As a mother of boys, this one really stood out for me. It looks like a magazine profile piece. Very Kennedy-esque. Just when the boys are seeming too staged in their wardrobe, the shirtless one comes into view. So summer house. So fantastic.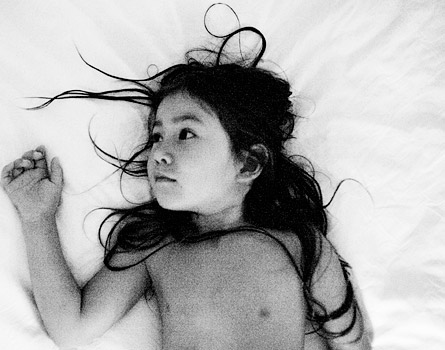 And perhaps the most stunning one for last—
All of these images came from the website of Sharon Suh, a West Hollywood, CA photographer. Check her out.