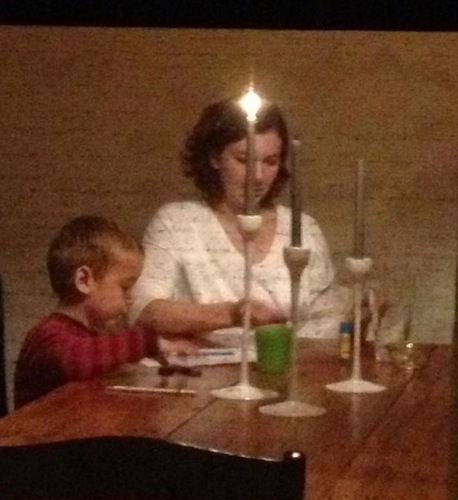 Here's a tip for making your fall and winter evening routine more sane:
Bathe the bigger kids before dinner.
Here's why:
The after dinner hour is one of the craziest times of day — kids are tired, babies seem to nurse constantly, dad gets home and everyone wants to climb all over him, parents are hungry, and there's tons of basic household stuff to get done in the evening. Getting baths done before dinner takes one big thing off your list.
Older kids don't get very dirty during dinner (we have a 5 year old and almost 4 year old)
Our kindergartener prefers to do homework after dinner. Having him in his pj's already means we can take more time with homework, look through his school papers from the day, and turn homework time into quality time together. (Like the photo above, which my husband took before coming into the house one night.)
Having kids in pj's sends the signal that the day is winding down.
It's cold and dark. PJ's are warm and comfy.
Having your older kids in pj's for dinner means they have more time for quiet play, books, or free time before bed. (While you make lunches, clean up from dinner, and take care of younger kids who need more hands on attention.)
It also means more quality time with working parent(s) who tend to come home right in the thick of nighttime to-do's.
It results in a much calmer evening routine.
—
So that's what's working for us right now.
What's your tip for making the evening madness more sane?