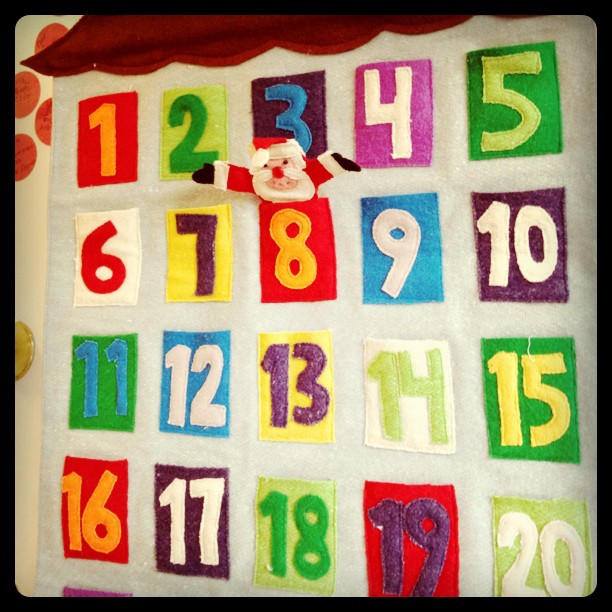 In our family, the key to holiday activities is keeping them simple and flexible.
To that point, I decide each morning what the days' activity will be. I pull out a pre-cut red circle (I'm loving my new 1 circle punch), write the day's activity, and put it in our Advent calendar each morning. (More about our Here Comes Santa Clause Advent calendar, and other adorable ones.)
We've been taping all the activities on the kitchen door, which is a fun way to remember all the fun things we've done.
Our Advent activity calendar list so far
Look for the elf on the shelf (he arrives today!) and read the book
Go downtown and watch the tree lighting (never made it to this one!)
Have fun for Judah's birthday party
Go to our neighbor's Christmas party
Get a Christmas tree and decorate it
See the holiday magic in the city
Watch Polar Express before bed
Open an early Christmas present (a popcorn maker) and watch a movie
Make Christmas ornaments (we're going to make these)
Bake a treat for our friend's dinner party (thank god for Trader Joe's awesome box mixes)
Do our gingerbread village kit
And more tricks up my sleeve
Practice being blessing fairies (more on this in a future post)
Celebrate one night of Hannukah with friends
Take treats to our neighbors (best intentions…)
Go stargazing and soak up the wonder
Read Christmas books (we do this pretty much every day, but it's a good low-key standby)
Welcome out of town family
Take our visitors to the city to see the big tree
Go to the Big Apple Circus
Take a night drive in our jammies to see Christmas lights
Make or buy presents for each other (I'm thinking about having our 3-year-old select a toy he doesn't use anymore to give to his brother. Not sure how this will go over.)
Wrap presents
Attend a Christmas concert
That's it–pretty low key. What's on your list?