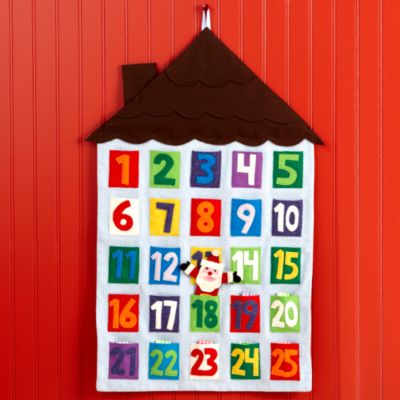 As much as I love Advent calendars, the idea of training my half-pints to expect a piece of candy or little plastic toy every day doesn't seem like a great idea. After much searching, I came across the idea of filling the little pockets of an Advent calendar with simple holiday-themed activities. I chose the Here Comes Santa Clause calendar from Land of Nod for my toddlers because I thought they'd enjoy moving Santa from pocket to pocket.
On my first pass of coming up with activities, I realized it was more of a holiday to-do list. So I took another pass and came up with this list. Some "activities" like "welcome Nana" have a definitive date. Most of the others I will be stuffing into the calendar moments before one of the children pull it out. This way we won't be selecting "decorate the Christmas tree" or "make cookies" on a day where that's completely out of the question.
Here's the list I'm working from:
Find Christmas books at the library
Make tree ornaments
Make wrapping paper (decorate white or brown paper gift bags)
Welcome Nana/Pop-Pop/Uncle Ben
Make red and green play doh
Select toys to donate
Go see Santa
Pick out gifts for teachers
Watch A Charlie Brown Christmas
Talk about the meaning of Christmas
Look at photos from last Christmas
Do a random act of kindness
Take a treat to a neighbor
Pick out our Christmas tree
Light a candle and say a prayer for a loved one far away
Take a picture of the kids in their Christmas pajamas
See the big tree and ice skaters in Rockefeller Center
Read A Night Before Christmas
Bake holiday treats
The beauty of this idea is that you remember to celebrate Christmas all month long–not just on one or two days. It's participating in the event throughout instead of waiting for the event to come and go (and ultimately being disappointed because of all the buildup).
Check out this post from The Activity Mom for even more activity ideas.
And here's more inspiration for those of you with enough time on your hands to make your own Advent calendar: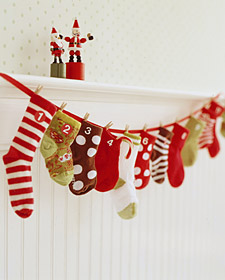 Baby Sock Advent Calendar from Martha Stewart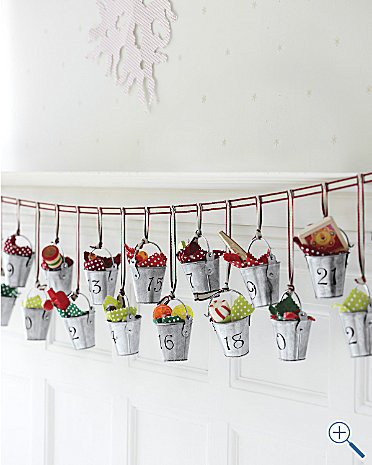 Buckets of Joy Advent Calendar from Garnet Hill (on sale for $24 but would be easy enough to make)