Little did I know when I pulled my boys out of daycare last November, I was opting out of preschool altogether for this year. As it turns out, most preschools follow the school year calendar, and enrollment happens in September, not January when ambivalent parents like me get around to making some calls.
We've spent the past two months regrouping from life as a two working parent household. Isaiah never wants to leave the house, and when we do embark on a morning adventure, he changes into his full body zip-up pajamas the second we get home. At noon.
It seems to be his way of saying, "I am not leaving the house again for the rest of the day."
So over the past two months, we've had lots of quiet play days, took a vacation to Florida, celebrated Christmas during the entire month of December and hosted family for two weeks.
During this "downtime," I've been assessing the best daily rhythm for the three of us. Now that our new life feels more routine, I think we're ready for days with a bit more structure.
This week I introduced "Preschool at home" or "Playing school" with Isaiah (3.5) and Judah (2).
I cleaned up the playroom and moved a table to a clear part of the room to be our "school" area. (I use the word "school" loosely, as I don't believe my role is to be a teacher but rather someone who facilitates learning through what looks and feels like play.)
On the first day, Isaiah and I "played school" while Judah napped. This is usually our house "quiet time," and I'm not ready to give that up yet, so I'll still have to play around with the best time of day to work with each of them individually. But in any case, here's what Isaiah and I did on Day 1.
First, we watered the plants.

I brought in three plants and a watering can on a work tray. As he poured carefully, we watched the plants "drink" the water.
"What are we going to do now?" he asked, super giddy. Confirmation for me that my presentation style was working (and not too heavy-handed).
 Then we did a space worksheet.
Isaiah is wildly into space at the moment. I found this (free) preschool "Astronaut Preschool Pack" download from Homeschool Creations. We played shadow matching with cut-outs of space-themed images. I cut the images out while Isaiah glued the shadows and their matches together on a page. He knew all the words for the space objects except Flag.
This was a great way for me to see where his gaps are–apparently we Alexanders don't spend much time talking about flags. For the rest of the week, I made sure to point out American Flags to him.
Next, we sorted spaceships from largest to smallest.
This part was easy for him.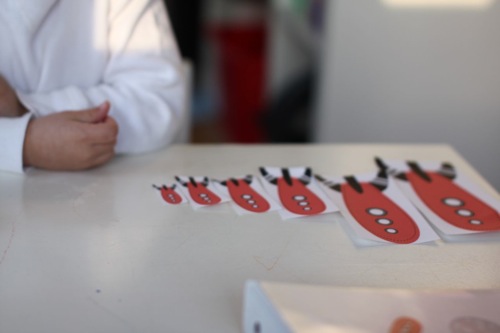 But when I switched the game to smallest to largest, there was a bit of confusion. Looking forward to practicing this more.
At this point, my "student" started to get a bit distracted, so we ended "school" for the day.
The first thing he said when his dad came home was, "We did preschool today!"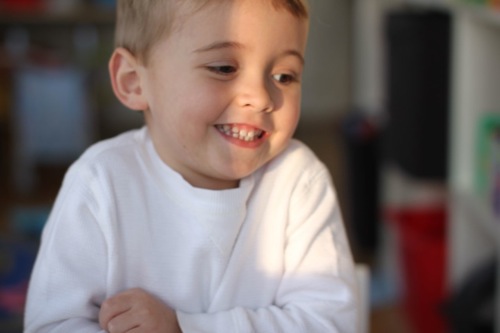 Success.