There's nothing like parties, spring flowers and chocolate to keep a girl's mind off her misery.
Not long after posting my early third trimester sob story, I was the recipient of not one but two beautiful baby parties.
The first was a complete surprise! It was the second surprise party of my life — the last one was for my 26th? 27th? 28th? birthday — both of which were arranged by my amazing husband.
Why yes, that is me pouring a fine glass of red wine.
I kept wondering why the host at Harper's was walking us toward the back room. "It's not like we have kids with us," I thought. But as we rounded the corner, there it was — a whole party! I later learned, Ian dubbed this "Britta's OMFG I'm having twins" party. Here's what Nina had to say about the prevalence of eggs that night.
I loved looking around the table and seeing the beautiful faces of my friends smiling at me. I loved that Shane made a rule that if anyone clinked glasses, he had to kiss my belly. I also loved that he was drinking Gansett, which gave me hope that summer will at some point come and we'll be boozing on the Cape, just like always.
And I loved my husband for bringing all of us together that evening just to put a smile on my face.
Later that week, my sweet friend Monica threw me a baby "sprinkle"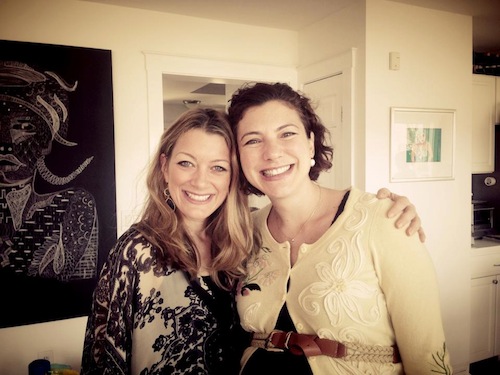 Seeing as this is my third time around the block, I didn't feel right accepting her offer to throw me a baby shower. Especially since the people we'd invite have already given me carloads of gorgeous hand me downs for these bambinos. So instead we had a "sprinkle" — a lovely weekday lunch gathering masquerading as a non-shower. Look how pretty!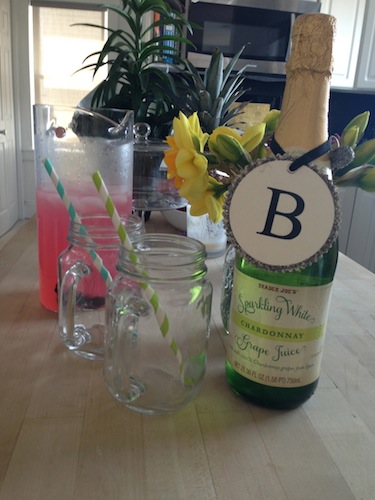 Monica filled us up with spinach pie and a delicious Greek pasta salad, among other delights which we ate on the back porch overlooking the Hudson River.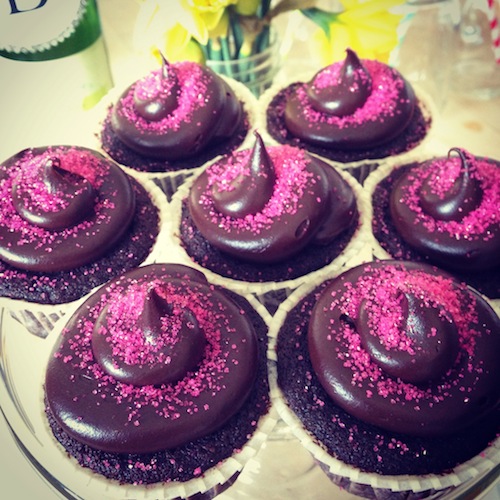 For dessert, Sheri brought pumpkin whoopie pies and cookies, and I'm pretty sure Sara sprinkled more than fairy dust on her "pink power chocolate ganache cupcakes."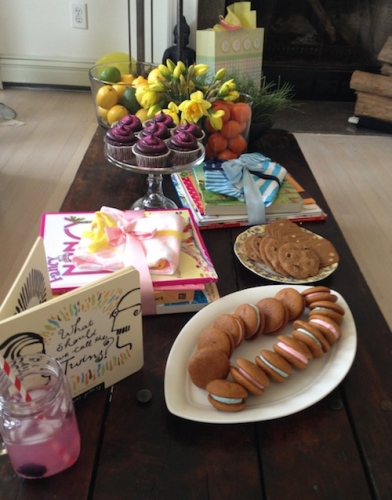 The best part was they sent me home with a week's worth of sweets, which kept the party buzz going and my mind off my third trimester twin pregnancy woes.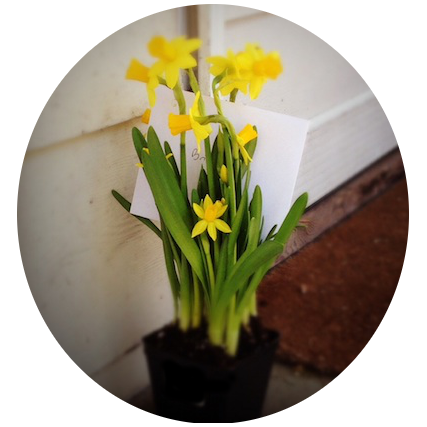 Daffodils found on my front porch later that week (thanks Patty!)
Thank you, dear friends, for the sunshine.
(Stay tuned next time when we'll be right back to our regular complaining sessions.)